The San Antonio Spurs: Return of the Klaw
— December 6th 2017
The San Antonio Spurs and LaMarcus Aldridge have continued to rack-up wins in the absence of Kawhi Leonard. How will his return affect Aldridge's rhythm?
By Paul Headley
There are precious few truisms in the world. Human beings need water and food to survive. Falling from a 200-foot building will result in death. The San Antonio Spurs win basketball games. Even the most fervent Spurs-truthers (assuming there are any left) are in awe. Tim Duncan is gone. Tony Parker missed 19 games to start the season. Manu Ginobili is 112 years old. Yet the Spurs are still on pace to win 55 games.
Oh, and they're also missing one of the five best players in basketball. It's easy to forget, sandwiched in between all the solid rotations and ball-movement, Kawhi Leonard hasn't suited up for a game this season.
Leonard's quad injury (rehab from which is allegedly close to an end) robbed the team of 25 points a night and all-world perimeter defense. While the team has understandably regressed on offense in the Klaw's absense, Gregg Popovich and his ageless warriors have barely skipped a beat on defense. A perfectionist like Pop is probably losing sleep reflecting on a drop from first to third in defensive efficiency, but it's the type of auto-pilot production other teams look at with murderous envy.
LaMarcus Aldridge is having a bounce-back year. The most coveted free agent in the summer of 2015 struggled to find rhythm in the Spurs' egalitarian system in his first two years. Unhappy with his role, the team was reportedly deep in trade talks before communication was opened and the situation salvaged.
Aldridge voiced his displeasure with his role on the team in a private meeting with Popovich over the summer. Per Bleacher Report:
"We have talked about what we can do to make him more comfortable, and to make our team better," he said. "But having said that, I think we are mostly talking about offense. Defense, he was fantastic for us. Now, we have got to help him a little bit more so that he is comfortable in his own space offensively, and I haven't done a very good job of that."
The Spurs' coaching staff made a more expansive offensive role a priority for the former Trail Blazer and five-time All-Star. Leonard's injury made such a focus essential, but Aldridge has been a lot more than a place-holder option. Aldridge is scoring more efficiently than ever. Career-high makes in three-pointers and free-throws have boosted his true shooting percentage to .579, almost five percent higher than his average while a Blazer (53.2 percent). His 24.6 points-per-36 minutes stands as a career high.
How Leonard's return will affect newly formed dynamics is unknown. Though the Klaw is well-known as an egoless and selfless star, he had the eighth highest usage percentage in the league last season at 31.1 percent. Leonard is supremely efficient on the offensive end. You want him leading your offense as much as possible. But the knock-on effect on Aldridge's rhythm is apparent.
Good Problems to Have
Keeping Aldridge happy and engaged while integrating Kawhi back into the line-up will be tricky, even for a coach as skilled in the black arts as Pop.
Aldridge and Leonard operate on opposite blocks as mid-range shooters, with LaMarcus preferring to set up on the left side, Leonard the right. Both players prefer to launch threes from the right wing and top of the key, but the real issue is touches. Aldridge is getting 61 touches per game this season (per synergy tracking data), up from an average of 53.9 per game last season. Those additional touches have resulted in more post-ups (from 5.8 to 7.5 per game), and he's converting them at a much higher rate (0.95 points-per-possession, up from 0.87 last year).
Aldridge admitted being apathetic last season, and made it a point of emphasis when discussing his issues in the off-season:
"…I probably didn't run the floor as hard, or I didn't seal as good. Then, they didn't look for me. Then, when we both thought about it, it was too late. But this year, knowing that it's going to be a point of emphasis, I'm going to run harder. I'm going to duck in harder, and they're going to look for me faster. So it's going to be better."
Aldridge has developed a reputation as a surly guy when he's baby in the proverbial corner. He considers himself a star and has every right to do so. Will he continue to fill the lane with purpose every time down if Kawhi is hot and his effort goes unrewarded?
Spurs Gonna Spur
The Spurs field an intriguing mix of former greats and lottery steals. How this coalesces into such a disciplined and distinctive brand of basketball is remarkable (NOTE: There is a point in every Spurs article where the writer runs out of adjectives to describe how great the team is. We're at that point).
Pau Gasol lumbers down the court at the speed of a brat to the principal's office. It's astounding that he continues to be as effective at 37 with 16 seasons under his belt. The elder Gasol is still money in the post, and his extended range (43.4 percent from three on 2.2 attempts) should keep him productive for a few more seasons. Danny Green remains one of the most undervalued role-players in the league. Green has made strides driving the ball this year, essential to fill the gaps Kawhi's injury left.
Patty Mills is struggling under the weight of career-high minutes (and a fat 50-million-dollar contract signed in the summer). The Spurs' best lineups upon Leonard's return (at least against teams like the Warriors and Rockets) will probably be Aldridge at the five, Leonard and some combination of Kyle Anderson, Danny Green and Dejounte Murray. The Spurs play their guys so sparingly, with so many lineup combinations (the team played 40 different lineups that logged at least 20 minutes last season), it can be difficult to accurately gauge which pairings work best.
Murray is looking great, but his minutes look set to drop with the return of Tony Parker. Just one game after matching a season-best 17 points (to go along with 11 rebounds and five assists) in a narrow loss against OKC, Murray played just eight minutes as the Spurs defeated the Detroit Pistons. Popovich loathes turnovers, and Murray coughs up the ball at almost twice the rate of Parker and Mills. Still, Murray's combination of size, athleticism and developing defensive chops might make him the go-to guy when the games matter most.
Anderson seems like a future fixture on Zach Lowe's annual "Marc Gasol All-Stars." Nicknamed "Slow Mo" for his meandering style, the former 30th overall pick projects as a match-up nightmare. At 6-foot-9 with a preposterously long wingspan (7-foot-3), Anderson is a silky ball-handler who can ping high-low passes with ease: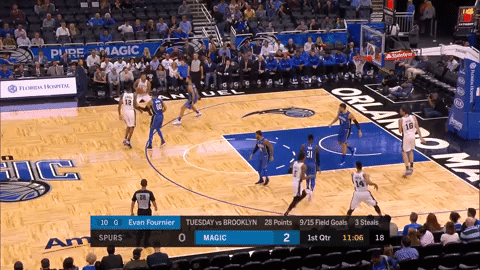 Anderson has logged zero minutes at shooting guard this season (per basketball-reference), but his length and mobility allow him to slide across three positions depending on the match-up; a must against the elite of the Western Conference.
While team on/off numbers might still be a little noisy as we nose past the first quarter of the season, it's depressing to note Manu Ginobili is a net-negative for the first time in his career. Manu can still run a pick-and-roll with the best of them, but his diminishing athleticism is catastrophic on defense. Father Time is lurking in the AT&T Center, much as it pains those among us who remember The Floppy One in his glorious, havoc-wrecking prime:
Manu Ginobili outstanding defensive efforts on superstars: Kobe, Durant, Wade, Kevin Garnett.
The Houston Rockets are top of most "who can beat Golden State" lists–and deservedly so. However, the Spurs are lurking. James Harden and Chris Paul are gifted megastars, but their playoff records pale when held against Leonard's. An easy argument can be made that Kawhi's mysterious quad injury will help the Spurs in the long-run, with two fewer months taken off his body come playoff time. The Spurs will be no easy out come April.