Chris Paul: The Resurrection of the Point God
— December 13th 2017
Chris Paul has changed his game to fit in with the Rockets. He and Houston are better for it.
By Paul Headley
Los Angeles is warm all year round, but one can imagine how cold Chris Paul's home was in June the last few years.  Though his Clipper teams were great, the point guard with the perpetual scowl crashed out of the playoffs in dramatic fashion year after year. The fit was never clean, the depth never there. Things have changed since he moved across to Houston.
Paul must be sleeping like a baby. This season has been the very definition of having your cake and eating it for the point guard. He's racking up wins and assists easier than ever before, and brow-beatings are at an all-time-low. James Harden is probably the MVP of the league through the first quarter of the season. But Chris Paul playing significant minutes a game against back-ups is what's transformed a standard Mike D'Antoni offense (that's a euphemism for great) into carnage.
Some observers doubted whether a pair of ball-dominant guards like Harden and Paul could thrive together:
I just want to point out that both Chris Paul and James Harden love to have the ball. Like, all the time.
The doubters have been silenced through 11 games. How has Paul operated?
Point God
The Rockets have posted a 14.9 net-rating since Paul returned to the line-up. Many expected Paul's passing numbers to drop dramatically, but he's above his career mark for assists per 100 possessions, with the fifth highest assist percentage of his career (48 percent).
Per NBA.com's player impact data, Paul plays 19.7 minutes a game with Harden and 10.7 minutes without him, but he crams almost as many assists into his Harden-less minutes (4.3) as he does with the Beard (5.2). Assists are an all-you-can-eat buffet in the Rockets offense, and Paul tucks in with the enthusiasm of a stoned teenager 20 minutes before closing time.
Teammates are shooting the lights out when CP3 passes them the ball, especially power forward Ryan Anderson (who's shooting an incredible 75.6% on 2.6 threes a game). Paul has never played with a stretch-four like Anderson before. Having a guy like him trailing the play makes for some of the easiest assists Paul has ever had:
Discover & share this Animated GIF with everyone you know. GIPHY is how you search, share, discover, and create GIFs.
Give any starting-caliber point guard 30 minutes and he'll get you six or seven assists a game just by being there. But not all assists are made equal. There are Dennis Schroeder assists and there are LeBron James assists. There are passes to the open man, and then there are cross-court slings, over three defenders, straight into a guy's hands in rhythm:
Discover & share this Animated GIF with everyone you know. GIPHY is how you search, share, discover, and create GIFs.
The Rockets have 48 minutes of the hall-of-fame variety. The beauty of the Rockets' offense lies in its simplicity. It's made special by the execution and skill of the players.
The team runs a lot of dribble-hand-off into pick-and-roll action, with either Anderson or Eric Gordon drifting toward the corner three. Here's where things become dicey for the opposition. Paul is a pick-and-roll savant. The second the help defender leans too far towards the paint to try to contain the roll, Paul whips the ball into the corner for one of the highest points-per-possession shots in basketball:
Discover & share this Animated GIF with everyone you know. GIPHY is how you search, share, discover, and create GIFs.
The exact same action only with the ever-improving Clint Capela rolling and Eric Gordon spacing:
Discover & share this Animated GIF with everyone you know. GIPHY is how you search, share, discover, and create GIFs.
Staying at home on shooters isn't much of an alternative. Watch the Rockets load up the strong side. The Nuggets' Mason Plumlee makes the following play easy to execute (he's a terrible pick-and-roll defender), but it's always difficult to defend a roller like Nene when the point guard can flick a pass to a deadly shooter in a split-second of indecision:
Discover & share this Animated GIF with everyone you know. GIPHY is how you search, share, discover, and create GIFs.
Itchy Trigger Fingers
The Rockets get up shots quicker than a freshmen on the beach on the first day of spring break. D'Antoni and the team embrace this philosophy unlike any run-and-gun squad in league history; if you're open, you shoot the damn ball. Paul has slowly acclimated, even going as far as to apologize to teammates for not shooting when he had a clean look early in a possession. Per Jonathan Feigen at the Houston Chronicle:
"I'm still getting used to it because coach is going to get mad at you for not shooting the ball," Paul said. "After I made that one, I was like, "My bad." I should have shot the first one."
Paul hasn't just had to adjust his natural instinct for when it is and isn't appropriate to shoot, he's also made some major changes to his shot-selection. Paul is shooting more three-pointers than ever (46 percent of his shot attempts) and has career-low attempts in the mid-range and long-two. Paul is lighting up the opposition on pull-ups, shooting 38.6 percent on 4 attempts per game, the second best rate in the league among guys with at least 3.5 attempts per game (behind only Harden who's shooting a barely believable 41.5 percent on 8.3 attempts per game).
When Harden rests, Paul hunts his shot more aggressively:
Discover & share this Animated GIF with everyone you know. GIPHY is how you search, share, discover, and create GIFs.
With Harden on the court, Paul can take a back-seat on a lot of possessions and just space to the corners:
Here's Paul running the exact same pick-and-roll into hammer-pass, only for Trevor Ariza in the left corner: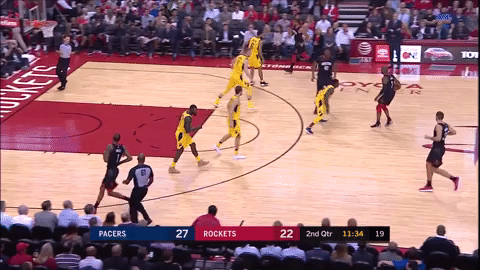 Many have pointed out the head-scratching amount of garbage-time minutes the pair have logged. Why risk a potentially season-altering injury when you've already rained fire on some hapless foe? Whether D'Antoni is conscious of building continuity over a long season is unknown, but it seems like something worth monitoring.
New Chapter
Is this the first chapter in the Chris Paul redemption story? It seems farcical that a player as decorated and consistently excellent as Paul would need one, but it's undeniably true. Paul is every bit as desperate as Harden to pat his legacy with a golden run in the playoffs. Harden's flame-outs, from his poor showing in the Thunder's lone Finals run, to last year's exhaustion-fueled collapse against the San Antonio Spurs, have garnered him a reputation as a regular season beast and a postseason bust.
CP3's playoff record is similarly spotty. Paul wasn't the cause of the Clippers' failures–poor roster construction and stinking luck takes most of the blame–but he wasn't without fault either. Hall-of-fame stats will carry him to Springfield, but if he's ever to reach the lofty heights of some of his Basketball-Reference "similarity score" comparisons (Magic Johnson, Jerry West) he has to get past the second round and make a Finals.
In the world the Warriors have built, that's a difficult ask.  If you were to build the ideal squad to challenge the beast in the Bay, it would look a lot like this Rockets team. GM Daryl Morey swung for the fences when he traded for CP3, and, for the moment at least, it seems like a risk that's paid off.